Emotn C1 LCD Projector Support 1080p , iOS and Android Phone Mirroring
Emotn C1 LCD Projector Support 1080p , iOS and Android Phone Mirroring
Emotn C1 Multimedia LCD Projector

EMOTN C1 uses high quality LED light source with strict quality control...
Emotn C1 Multimedia LCD Projector

EMOTN C1 uses high quality LED light source with strict quality control and a fully sealed light machine to avoid dust from falling into the screen and producing black spots, which affects the picture quality of the projector; at the same time, it effectively protects the light machine and the life of the light source can reach 50,000 hours.
 

Easy to use
Advanced Mirroring Technology
More advanced wireless & wired mirroring technology is Emotn's unique innovation and profound technical precipitation. Lower latency, more high-definition picture transmission. Two convenient and flexible mirroring methods, perfectly compatible with Android and IOS.
Creative
Unique Mobile Phone Protection Slot
Emotn designed a flexible silicone slot that can be put devices when you mirror the screen. It is soft, comfortable, and non-slip to protect the phone from bumps and scratches. 
Delightful
BOX Sound Cavity HIFI Speaker
Beyond the similar products with trans-level enjoyment. Using high-end Italian silk paper cone, 18 core dual-magnetic full frequency, 5W high-power HIFI speaker, innovative sound cavity structure design, restore an excellent sense of listening.
Good Quality
New Image Quality Tuning Technology
720P (up to 1080P compatible) true physical resolution, bringing picture quality that far exceeds 480P. Equipped with Emotn new image quality tuning technology, it creates sharp and vivid images, brings clear and delicate viewing images.
Protect Eyesight
Soft and Not Dazzling
Diffuse reflection soft imaging makes the eyes easeful, exceed hundred inches large screen, watching subtitles effortlessly. While watching movies, also not worried of impaired eyesight.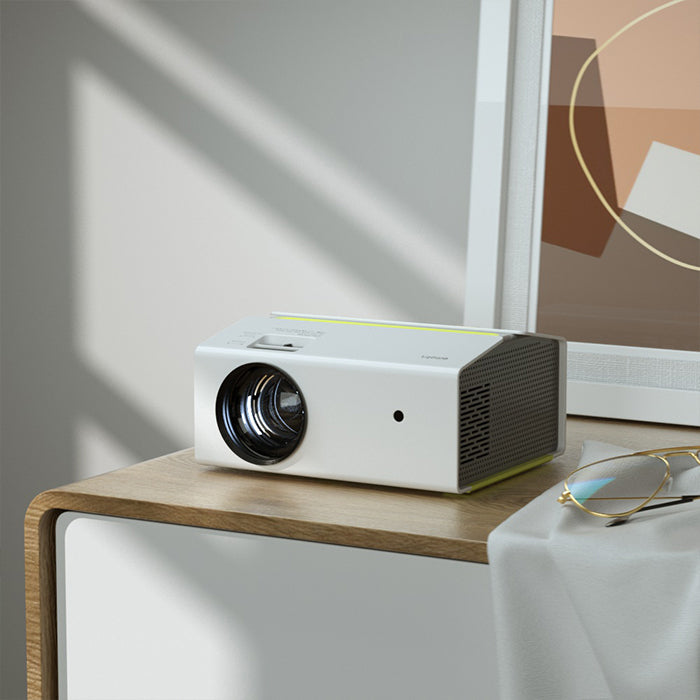 Nice
Fashionable & Attractive Projector
Created by a professional aesthetic design team and has a striking exterior design with unique lemon yellow and starlight white color clash design, young, vibrant, and stylish. Your friends will praise it and fall in love at first sight.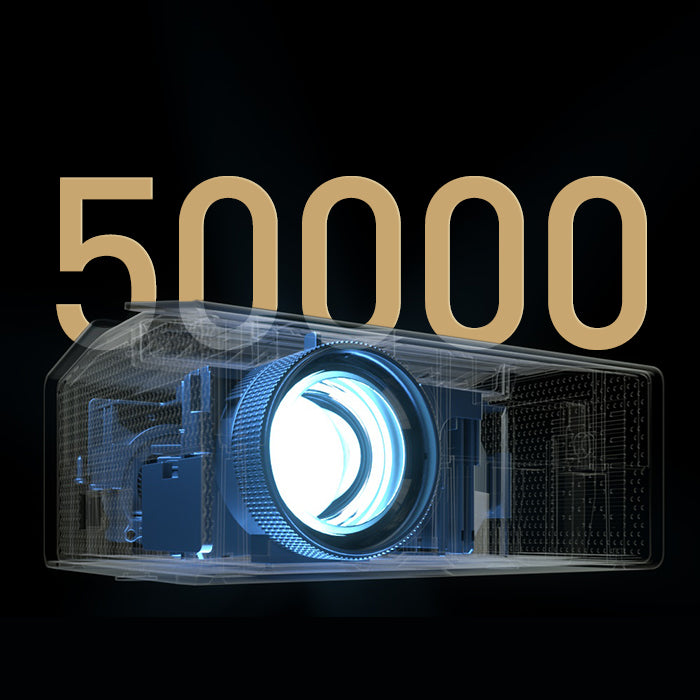 Durable
Long Service Life
The service life is 3 times longer than ordinary TVs, and it has an unparalleled service life of 50,000 hours. Even if you watch 4 hours a day, the service life is as long as 30 years! Use it with confidence, just be happy!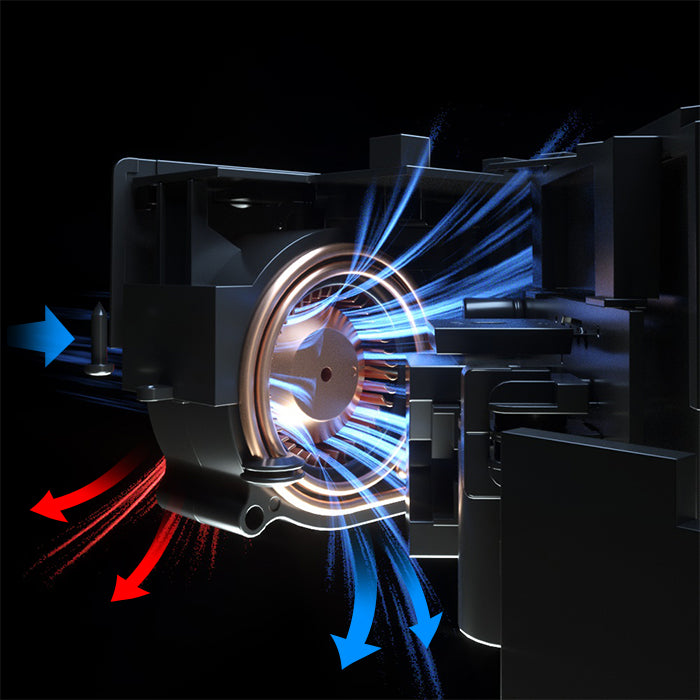 Truthful
Safety and Reliable
Environmental protection grade resin + alloy vacuum plating. Weighing 250g pure copper cooling fins, wide to 6mm high power heat pipe, two groups of intelligent inverter centrifugal fan, operating noise below 30dB, cooling but silent.
Super Multi-Interface
Super Expansibility, Easy to Use
Including most mainstream interfaces, the convenience of expansion is increased by 200%, perfectly compatible with different streaming media devices, easily watch thousands of channels, like Netflix, YouTube ...
SPECIFICATION
Brightness
130

 

ANSI

 

lumen

(Brightness

 

Over

 

8500

 

lumens)
Resolution
Native 

1280*720 (Support 1080p)
Projection Screen Methods
WiFi / Wire (Wireless projection screen distance 8-10m)
PRODUCT INFO
Unit Dimension
225 x186 x 109mm (8.85''*7.32''*4.25'')
Port
VAG×1, USB×2, HDMI×2, AV×1, Aux 3.5mm×1,

TF(microSD)

×1, AC×1
Packing List
Instruction manual*1, remote control *1, power adapter (1.5m)*1, HDMI 2.0 Cable (1.5m)*1 AV Cable(0.26m) *1.
*EMOTN is committed to providing the best quality LCD projector.